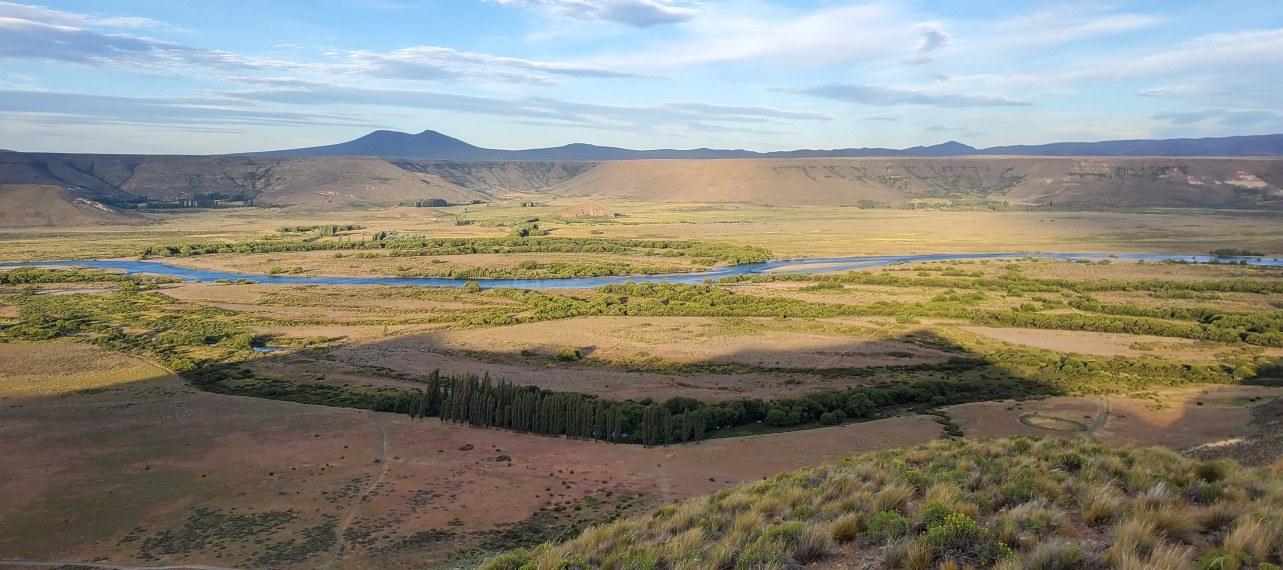 Total solar eclipses occur when the New Moon comes between the Sun and Earth and casts the darkest part of its shadow, the umbra, on Earth. A full solar eclipse, known as totality, is almost as dark as night. During a total eclipse of the Sun, the Moon covers the entire disk of the Sun. In partial and annular solar eclipses, the Moon blocks only part of the Sun.
We have secured the best seats in the house for you to admire this amazing natural phenomenon in comfort. The Northern Patagonia region will be the epicentre of this breathtaking natural phenomenon. We have developed an exclusive private Camp only for a few privileged guests. This unique setting also allows you to craft your own adventure in the Patagonian wilderness surrounding the camp.
OUTLINE ITINERARY
Day 1 - 13th December 2020
• Arrive at the local Airport of San Martin de los Andes (CPC), with direct flights from the Argentine capital Buenos Aires.Meet your Patagonian hosts for a private transfer to Tres Rios Ranch (approximate drive time of 40 minutes)
• Upon arrival enjoy welcome drinks and snacks before we introduce you to your private luxury tent, complete with plush beds. The camp also has a spa on site with a range of relaxing treatments, gourmet food, great local wine and WiFi available
• The camp is located on the Collon Cura Valley, next to the Collon Cura River, and the site is surrounded by poplars and willows that are over one hundred years old. During the afternoon and evening your guides will take you to different  locations on this vast property where you can enjoy the breathtaking backdrop of the Lanin Volcano (12000 ft). During this time you could expect to spot  Wild boar, Guanacos, Condors, eagles and other species  endemic to the Patagonian steppe
• You will be back at the Camp Area by 20:00 to enjoy a typical Argentine Asado (barbecue) cooked on the fire and accompanied by freshly picked vegetables and some of the finest Argentine Malbec. The perfect way to round off your first day, before retiring to your cosy tent ahead of tomorrow's main event
Day 2 - 14th December 2020
• Start the day with breakfast at 07:30, followed by a short 4x4 transfer to the confluence of the most significant rivers in Neuquén State, the Chimehuin and Alumine rivers
• Cross the river by drift boat to meet your vehicle that will drive you to Piedra del Aguila - the private setting for today's eclipse. Reach a specially selected location for viewing the eclipse on the Patagonian steppe, where your eclipse concierge and experienced team will be waiting your arrival. During the eclipse, telescopes and special eclipse glasses will be provided to maximize your experience, as well as comfortable seating. A light lunch and drinks will be available at your preferred time
• The eclipse will start around midday so you will be in position at least one hour before the event.  At 11:45 the moon will begin to eclipse the sun. Then at 13:07 the full eclipse will place for 2 minutes. After that, the sun will slowly begin to reappear until it emerges fully at 14:35 to mark the end of this monumental event
• Return to the camp in time to relax and reflect upon what you've just witnessed, before a hearty dinner is served
Day 3 - 15th December 2020
• Leisurely breakfast and depart the camp around midday for your transfer back to San Martin de los Andes, where you will catch your flight to Buenos Aires. We would be happy to assist with any further regional arrangements
• If you'd like to extend your time at the camp we can arrange an additional night and full day of activities. Possible experiences include horse riding, hiking, kayaking, fly fishing, and even helicopter experiences. Please enquire for further details
The best time to travel
January is an average month to visit.

February is an average month to visit.

March is an average month to visit.

April is an average month to visit.

May is an average month to visit.

June is an average month to visit.

July is an average month to visit.

August is an average month to visit.

September is an average month to visit.

October is an average month to visit.

November is an average month to visit.

December is one of the best months to visit.
best

time to visit

good

time to visit

average

time to visit


Start Planning Your Journey
This trip can be customised to your personal preferences.
Our team is ready to inspire you. Email team@untoldstorytravel.com or call us on
+44(0) 776 284 8888