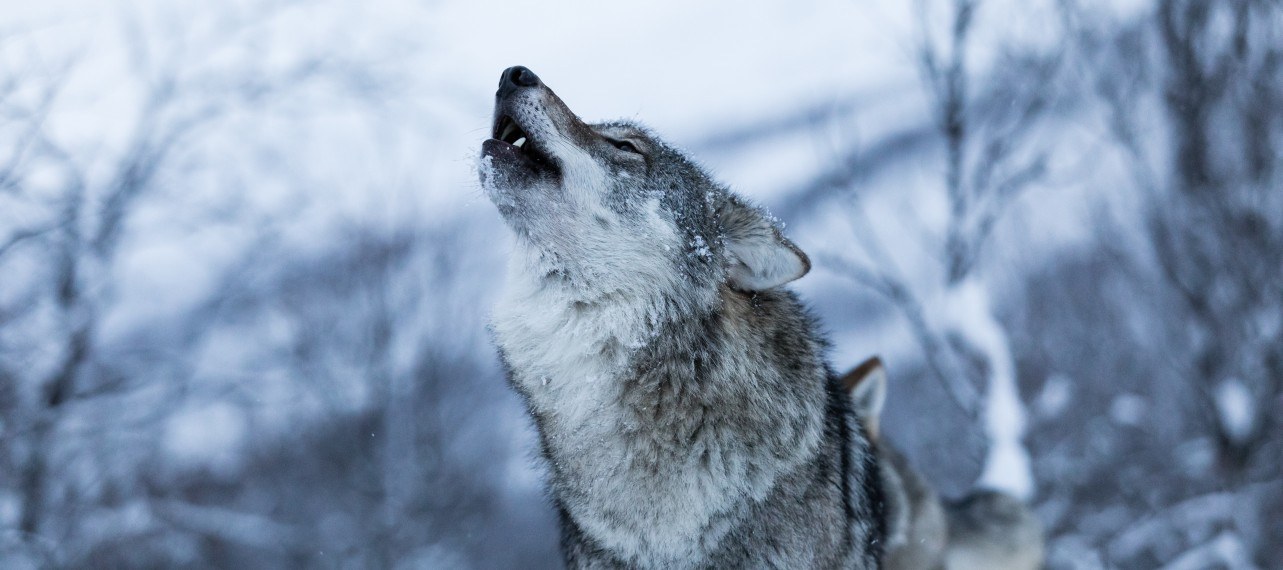 Wolf Lodge is nestled in 270 acres of private woodland and the home to numerous wolf packs. Located high above the Arctic Circle in Norway, Untouched nature and exquisite wildlife stretches as far as the eye can see. This stunning lodge is exclusive use only.
HIGHLIGHTS
Private and exclusive use of Lodge
Close up encounters with the Wolves
Get to know and feed Lynx, Wolverines, Bear, Moose, Reindeers and Musk Oxen, all living in 270 acres of natural reserve
Private Northern Lights Safari
Picnic lunch around open fire al fresco on reindeer furs
RIB safari with a local marine biologist
Snowmobile or dog sled expedition
Drive or helicopter transfer to Skjervøy Island, Norwegian Lapland

. 
Preferred hotels
Sample Itinerary
DAY 1: Private car or helicopter transfer to Wolf Lodge, located in the middle of the wolf private reserve  Welcome orientation followed by dinner and time to rest and track wolves. If you travel between September and April, you will have a good chance of seeing the Northern Lights with clear skies 
DAY 2: After breakfast your host will take you for an exclusive visit inside the wolf enclosure with face to face encounters with the animals guaranteed. Truly a once in a lifetime experience!  All meals are prepared by your private chef using locally sourced produce, and served in the lodge. After dinner, relax in the lodge before looking for the wolves and hunting the magical Northern Lights
DAY 3: After breakfast, join your host as he ventures inside the boundary and feeds the other wild animals in Polar Park: lynx, wolverines, bear, moose, reindeers and musk oxen. This is an exclusive experience only available to clients staying at Wolf Lodge.  Alternatively your private local guide will be  on hand to take you on a snowmobile expedition or dog sledding trip in the breathtaking mountain scenery surrounding Polar Park. A picnic lunch will be served outdoors as you sit around the open fire on reindeer furs.  Return to Wolf Lodge for dinner and enjoy a wonderful dinner prepared by your private chef.
 DAY 4: This morning you will enjoy a spectacular helicopter trip, taking you across stunning fjords and wild mountains, across to Alta in Finnmark.  In Alta you will be taken to the excellent and brand new Sorrisniva Arctic Wilderness Lodge – located outside Alta on the banks of the frozen Alta River.  Take some time to rest and enjoy dinner at the lodge restaurant in the evening.  After dinner your private expert Northern Lights driver/guide will pick you up and take you on a Northern Lights Safari. 
DAY 5: Having enjoyed breakfast at the lodge you will be transferred a few minutes to the nearby husky dog kennel.  Here you will meet your private expert dog sledding guide who will now take you for a wonderful, full day dog sledding ride in the beautiful landscape surrounding the lodge.  Lunch will be served outdoors sitting around the open fire on reindeer furs. In the late afternoon you will return back to the lodge. Your expert guide is on hand once again if the Aurora Borealis have so far proved elusive.
DAY 6: Today you are in for another Arctic Adventure!  From Alta Lodge your private driver will take  you to Kautokeino – in the middle of Sapmi – the land of the Sami tribe.  They are semi nomadic and live from what their reindeers can give.  In Kautokeino you will meet with Mathis - a local reindeer herder and you will join him in his daily work. The reindeer are living out in the wilderness and with Mathis you will drive on snow mobiles until you find his flock.  You will interact with the reindeers, learn how to throw lasso and learn about the Sami way of life – their traditions, religion and history.  After an unforgettable experience your driver will bring you back to Alta Lodge where you will enjoy another wonderful dinner.  
DAY 7: After breakfast and check-out, your private driver will whisk you back to Alta airport.  Here you will board your flight back to Oslo airport where you will connect with your onward flight.
LENGTH OF STAY: The length of this trips is completely flexible and tailored to your wishes
ACTIVITIES IN ALTA:
One of the really unique things about Alta is the large selection of daytime activities we can offer::
- Northern Lights viewing (September through March)
- Dog sledding
- Snowmobile expeditions
- Skiing, both downhill and cross country
- Ice fishing
- Snow shoe walks
- Reindeer sledding
- Reindeer racing
- Various types of authentic encounters with the Sami tribal people (example: be a reindeer herder for a day)
- Take part in the reindeer migration (an experience over several days out in the wilderness on snow mobiles)
- Deep sea fishing
- King Crab fishing
- Hunting
- Tobogganing
- Whale watching (season from November through January)
- "Fat biking"
- Private encounters with Santa Claus and his reindeers
- Mountain climbing