The British summer can be incredible. Blue skies, blazing sunshine, and glorious fresh breezes are typical in the months of July and August, and there's no better place to experience it all than on the Cornish coast.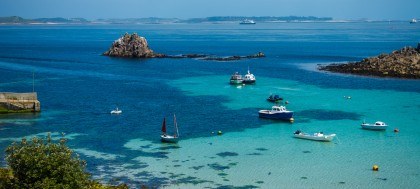 Located on England's rugged southwestern tip, Cornwall forms a peninsula of outstanding beauty and charm. Home to picturesque harbour villages, towering cliffs, and spectacular beaches, it makes the perfect, quintessential summer break for families of all ages.
If you are considering a luxury family escape to Cornwall this summer, then we have plenty of ideas of how you might want to fill your time while visiting. From the laid-back to the daring, here are our top picks of activities to embrace on the Cornish coast.  
Beach Combing
There's no doubt that the majority of Britain's best beaches are located in Cornwall. The coastline stretches over 250 miles and offers over 300 beaches to choose from.
Kynance Cove is regularly featured in the world's best beaches lists and is a must-visit for white-sand lovers. Its fairytale-like vistas feature magical serpentine rock stacks surrounded by bright turquoise water that shimmers in the sunlight. The beach has long-standing royal connections, and its links to writers and poets, such as Alfred Lord Tennyson, give it a steeped and fascinating history to uncover.
Further to the southwest of Cornwall, Porthcurno Beach is known for its Caribbean-blue waters and the finest silky sand. Here, the tall, towering cliffs provide shelter from the extremities around the coastline, and children bathe in the natural paddling pools formed by the small stream winds. Be sure to catch a show at the Minack - an incredible open-air theatre built on a rock that overhangs out to sea. Here you can watch actors recite Shakespeare or musicians play strings with a stunning backdrop of the sea behind them.
Everybody's Surfing
There's no better place for surfing than on the Cornish waves and your true experience is not complete without a go. Whether you are a beginner or a pro, there are surf spots to suit all experience levels and ages, and we can introduce you to the very best teachers to ensure you get the best coaching possible.
The crescent bay at Harlyn is popular with novices, and here you can try your hand at surfing, coasteering, paddleboarding, and kayaking. Guided by one of the friendly pros, you can learn to ride the waves, before heading to the shore for an amazing seafood lunch in one of the chic beachside restaurants.
Private RIB Safari
If the thought of high-speed water adventures fills you with excitement, then be sure to add a private RIB safari to your itinerary. Usually lasting around two hours, you can cover a large stretch of the coastline with spectacular views as you whoosh by boat.
Slow down for close encounters with wildlife in the waters, such as dolphins, basking sharks, or seals, and listen to tales from your expert skipper as you pass by the Ben Asdale wreck, D-Day landing sites, and the location of St. Anthony's Lighthouse, which featured in the children's TV show Fraggle Rock.
Chopper to Tresco
For breath-taking bird's eye views of the coastline, a private helicopter ride is a great way to travel over to Tresco – the second-largest island of the Isles of Scilly.
Arriving by air affords some amazing and unforgettable views of this beautiful archipelago. And, with white sand beaches and azure seas to great you, the touch-down will be just as exciting as the flight. Once on land, you can enjoy the small-island charm of this enchanting place. Take a meandering stroll to the stunning Ruin Beach Café at Old Grimsby, for Mediterranean-inspired beachfront cuisine from the wood-fired oven, and then explore the rugged North of the island by foot or cycle hire. Steeped in history, you can visit the circular gun tower of Cromwell's castle – one of the last few surviving Cromwellian fortifications in Britain.
Due to the climate, nature thrives in Tresco, and you will see how everything looks and feels quite different here. At Abbey Gardens, you can enjoy a private tour of the sub-tropical gardens with an expert guide - home to 20,000 plants from more than 80 countries.
If this guide has sparked your interest for some family fun in scenic Cornwall, then our expert team at Untold Story would love to help you plan the finer details. Get in touch with our London-based office to hear about our Luxury Cornwall trip and how we can tailor it exactly to your personal preferences.
CLOSE
We design each journey entirely from scratch. To discuss a bespoke itinerary personalised around your interests and requirements, call us on +44(0) 776 284 8888 or arrange for us to call you back at a time that suits you.